Since the start of the pandemic, homeowners have put more weight on their outdoor spaces. As such, real estate listings may want to highlight what a home has to offer in the backyard, front yard, balcony, deck, or lawn space.
Sixty-two percent of consumers said they've spent more time outdoors since the pandemic, according to a new survey from Gardens Alive, a garden and lawn supply company. Gardens Alive surveyed more than 900 people nationwide to find out how the pandemic has changed their perceptions over outdoor spaces.
The pandemic may have prompted more homebodies. Seventy-two percent of respondents say they would rather invest in their home than go on a vacation this summer. They're putting more focus on their yards too as they stay at home. Forty-four percent say they plan to spend between $101 to $1,000 to spruce up their outdoor living spaces. Another quarter of respondents will spend between $1,001 to $5,000 to enhance their outdoor space.
The following chart shows the primary purpose respondents desire for their outdoor concept or design: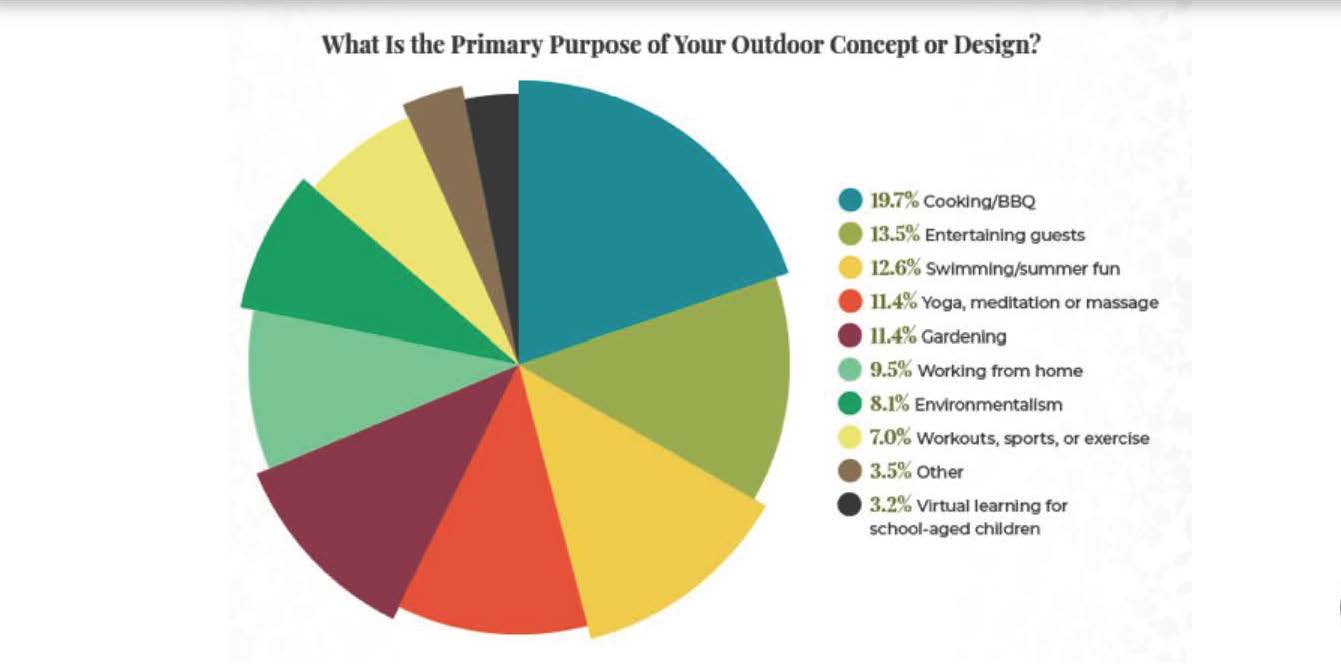 Consumers also mostly favored a "modern" design style for their outdoor space. The top three outdoor elements they want: Flowers, plants, or greenery (21%); BBQ/food preparation area (17%); and lounge/chaise seating (14%).
Greenery appears to be an important focal point in any yard, too. Thirty-two percent of respondents said they wanted a green backdrop and nearly 30% said they wanted pops of color with plants. A quarter of respondents also sought to use plants to add more privacy to their yards.
The Gardens Alive survey also found homeowners in certain states may be even more likely to improve and focus on their outdoor space, particularly in Maine, Mississippi, Alaska, Nevada, Arkansas, California, Wisconsin, and Louisiana.
Source:
"Polling Americans on Their Outdoor Spaces This Summer," Gardens Alive (2021)