How did you get your start in interior design?

I grew up in Sweden, and had a career working as an art guide and tour leader all over the world. After having children, I decided to go back to school and get a degree in interior design, which was a perfect new career for me. Elle Interiors opened its doors in 2007 and we quickly became a sought-after design firm in the metropolitan Phoenix/Scottsdale area. As an interior designer, I use my knowledge about design, architecture, and art that I was involved with during my years as a tour guide. Years of working within the fine arts field also trained my eyes, to see how colors, lines, scales etc. work together harmoniously.


As the weather gets a little cooler, what are some ways that homeowners can update their interior or outdoor living space?

Many people have spent a lot of time working from home in the past 6 or so months, and I think that has made a lot of people aware of how important our home environment is. To spend money on our homes is not a luxury, it should be a necessity. When the budget is low, I always suggest decluttering, moving furniture around, and adding accessories such as pillows, flowers, etc.

Do you have any predictions for design trends that'll become more popular in the Fall?
I see a huge trend towards natural woods, especially white oak, coming into kitchen and bath design. White oak, especially vein cut, is a beautiful, light, alternative to white cabinetry. Brushed gold or antique brass will remain the popular choice for metals. As for an overall style I see that we are moving towards cleaner lines and an overall more contemporary feel.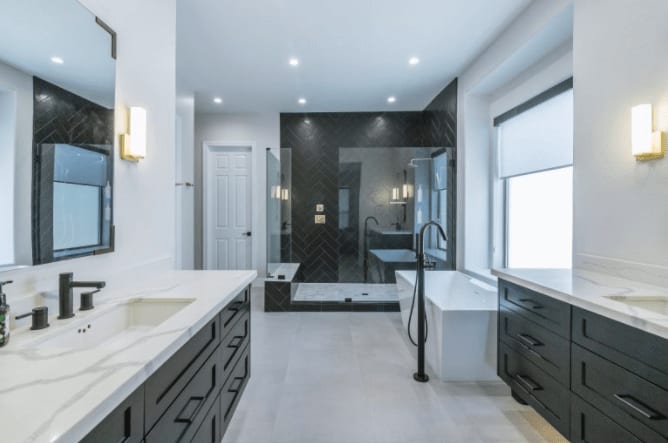 What color palette would you recommend for someone looking to revamp their home in the upcoming season?

I see a lot of jewel tones becoming popular in upholstery, art, and accessories.
Emerald greens, mustard yellows, plums, etc.

Is there a recent project you worked on or an upcoming project that you're really excited about?

Every project, small or large, is exciting in different ways. We recently finished a complete remodel and furniture design project in an East Valley lake community that we are very proud of (see photos). We used gorgeous white oak cabinetry, lots of contrast between darks and lights, fun fixtures and contemporary furnishings.